Our Hanania Collision Center Repair Process
Jack Hanania's Collision Center is a full service, auto body shop located in Jacksonville, FL that offers collision repairs using certified technicians and state of the art equipment to bring back the original factory look and feel of your car or truck. We fully guarantee quality workmanship and attention to detail for each and every customer that walks through our doors.
To ensure a top notch customer service experience, we follow a proven servicing process that includes the following: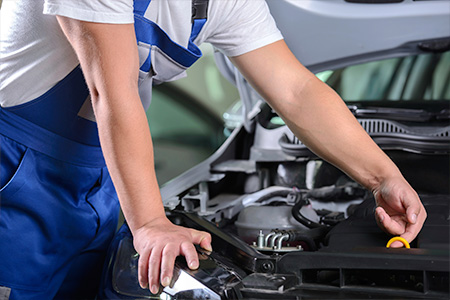 Estimate/Drop-Off
Drop off your car (or use our tow service to have your vehicle towed) at our Orange Park, FL location.
We provide a detailed (free) written estimate and description of any necessary repairs.
We will arrange a rental vehicle for you if necessary (on-site).
* After hours night drop available.
* Vehicle must be dropped at the dealership and we will transport your vehicle to the collision center the next business day.
Prompt Repairs & Servicing
We repair all makes and models.
We provide constant contact with each customer to keep you informed during each and every step in the repair process. If additional work is necessary we will contact you.
We have quality control systems in place to reduce repair times. This process ensures timely completion and delivery.
All repairs are performed in house. We don't use outside vendors for any repairs to your vehicle.
Delivery
After servicing has been completed we will call you for pickup or drop off in the Jacksonville, FL area.
We make sure every vehicle is thoroughly cleaned and detailed.
All of our collision and body work is guaranteed.
Our collision center is conveniently open from 7am to 6pm on weekdays and 9am to 1pm on Saturdays (closed on Sunday). Please use our online form to schedule your next service appointment, or call (904) 269-7685.